Seams that I'm always trying to play some sort of catch up.... whether on the blog or at home or just my sewing in general. But, then again such is life sometimes.
Here is a picture of the completed over-alls for my great nephew. Sorry, I need to find out how to rotate the pictures. Always something new to learn. Hope you can see the cute buttons. They are little doggie bones and puppy dogs.
The pattern McCall's 3736;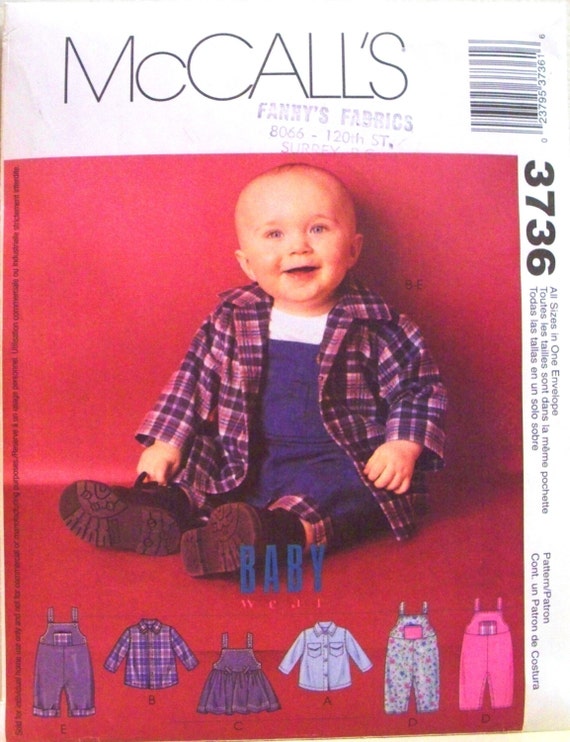 Is pretty self explanatory, the only problem I had was with the button holes. All of a sudden my machine decided to bock at making them for these cover-alls. I know not why.... so I pulled out my hand dandy no fail oldie but goodie Singer machine and sure enough I had no problem what-so-ever making all 4 button holes. Now mind you these buttons I have had in the stash for a good many, many years.... (they were some I bought while I still worked at Hancock Fabrics....) I bought them on a sidewalk sale. For all of maybe 90 cents. I figured with the little puppy dogs on the fabric, they would
be perfect for this gift. Oh, as I was working on putting in the snap tape..... ahem, don't make the same mistake that I made. I put the top snap tape in correctly facing down so they would snap into the bottom snap tape.... yeah, well when I turned over the pants to put in the bottom tape, I faced them down also.... yep, me and my seam ripper got to be good friends! It was late, I was tired. Enough said! Hopefully I only make that mistake once! It will be something I hope I remember. It was the last thing I had to do.... lets just say I was not happy!!!!! Oh well. On to the next project!
Now I need to work on something for my great niece due sometime in November I believe. I may make another little jacket/fleece sweater with embroidery, similar to the one I made last Fall. So many cute patterns so little time.
Between these projects and trying to get my daughters quilt machine quilted I've been camping, sewing with my friend Karma, tending the garden and various other Summer activities. O.K., reading, I've been reading..... out in the backyard under the apple tree's! Best shade in town! Hope your summer has been fun. Enjoy it while you can. Oh, and when you sharpen those scissors.... try not to cut yourself with them! Enough said! :(