Time sure can go by quickly. I could almost assure you that it was just two weeks ago that I made my last post. But, looking back at the date of it assured myself that it wasn't. So, lets see; I finished the prom dress for a girl in our ward at church. (picture to follow). When I made it I mentioned last post that it came from 3 patterns. After we got so far into the dress and K. tried it on; she was a bit cold (it was cold outside so that didn't help) and asked if it would be to much trouble to put sleeves on it. It was a bit of trouble; but I wanted her to be comfortable. Hind sight I could have told her no or asked her when we started if she wanted sleeves. It would have been much simpler to do that to begin with. But, thats not what we did... my picture isn't wanting to show up. Probably because I downloaded it wrong. I will see what I can do to fix that.
O.K., so I managed to learn a few things and figured out how to store/retrieve and crop the photo; since I don't have her permission to post her face. As they say, learn something new every day. If you look closely (and you will have too because her hair is in the way in the picture), you can see at the top of the bodice there is about a 1 1/2 band I put on because she didn't feel as modest as she would like. No problem. It was after I put that on and had straps pinned on that she decided she wanted sleeves. All in all it was an education to sew this dress. All in all, now that the dress is done, it took 3 dress patterns, a bit of fudging here and there... lots of unpicking to get it done. But, in the end, she told her mom that she felt like a princess; so that's all that matters! Apparently she was doing a lot of twirling too... nothing like a full skirt to help a girl twirl. To bad kids don't learn to waltz she would have been the bell of the ball! Full disclosure here; they borrowed a full slip to put under it to make it nice and fluffy and full. I did have to take up the slip a good 2 inches because K. is no taller than me. I stand at around 5' 4" tall. Her date from what I understand was around 6'. I get that!!! My dear hubby is 6' 1". Oh, just so you know.... I don't waltz either! Lol...
I started a pair of baby cover-alls for my nieces soon to be baby boy. I've been trying hard to use just the fabrics in my stash for things. This way I won't be as bad as the lady I read about on another blog;
check it out here; http://weddingdressblue.wordpress.com/2014/04/06/my-parents-acquaintances-boyfriends-mothers-stash/ It was soo sweet of the gentleman to share his mother's fabric stash with strangers. Then again, I'm sure he was just happy to be rid of it all. My MIL practically gave me all of her stash when I helped her and my FIL move to a newer home years ago. A lot of her stash was clothing type fabric, fabric that she still had from sewing for clients. She had one women she sewed for who she is assuming didn't know how to read; because when she told her that she needed to buy what it said for the blouse in her size or skirt, dress etc. She always came with twice as much as she needed. When MIL tried to give the extra fabric back to her; she told her to keep it. I did donate some of that to the local D.I. because it was the satiny fabrics they used in the 80's and early 90's.
And I've been cutting out various squares for a sometime quilt. Sizes are pretty different; 2, 2 1/2, 3 1/2, 4, and also some 5 inch squares also some 4 3/8 inch triangles. All this of course gave me more scraps for my string quilt scrap basket. I needed more variety there... it was getting kind of boring as far as colors in my basket. Nice to see some things checked off the to-do list. But then it always seems I've got more to add to it.
The little boy coveralls I'm making are from McCall's 3736, which is of course is no longer available (when do I buy new patterns...lol), but it is available on the web... here is a picture of it. It's view E that I'm making. The green background with little puppy dogs will line the bodice, be the pocket (as you can see) and will also be at the cuff of the pants (I haven't gotten that done yet).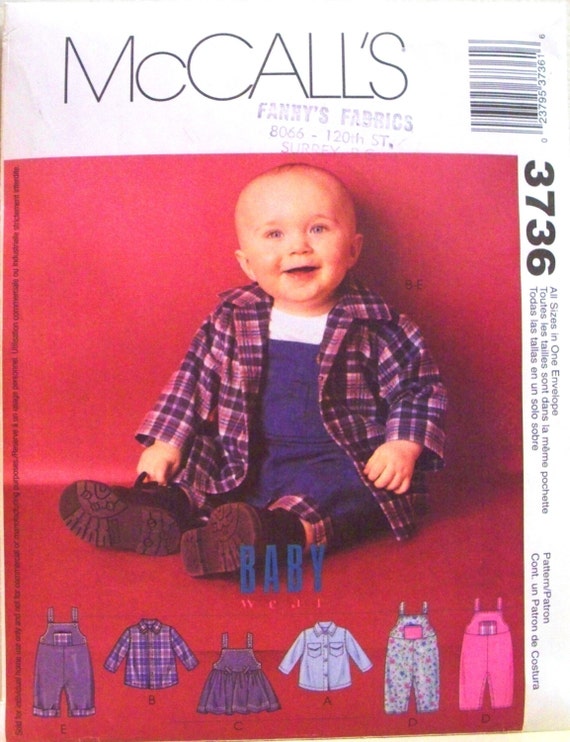 I have some cute little buttons of dog bones and puppies to put on. The buttons I bought on a close out years ago while working at Hancock Fabrics. The card the buttons are on says Trena's Trinkets.
Trena Hegdahi for Westwater.
The tag says that they were originally up for sale in 1997 for $2.99, but I bought them for 1/2 off plus another 20% off since I worked there. So I paid approx. $1.20 for them. Always fun to dig thru my stash of stuff and use what I have. I hope my niece likes them. I will also be putting a cute little cuff on some oneies of the green and maybe a little applique of a puppy.... overkill? I will decide when I get that far I guess. I will try to remember to take a pic. before I give them to her.
Don't forget to check out your stash... you never know what goodies will be lurking there. LoL...